Current Research Studies
Featured
COVID-19 Study: PANORAMIC

Platform adaptive trial of Novel antivirals for early treatment of COVID-19 in the community

PANORAMIC is a UK national priority clinical trial seeking new antiviral treatments for COVID-19 in the community. We are currently recruiting to the Paxlovid arm. 

Have you tested positive for COVID-19 and experiencing COVID-19 symptoms, starting in the last 5 days? Please arrange for a test to be collected from reception. If you test positive please call the Newton Place Surgery research team on 07538 115938. 

 
This study, sponsored by the University of Oxford, is now considered the fastest recruiting trial for COVID-19 with over 26,000 participants taking part from across 65 sites. 
The eligibility criteria for this trial:
You are currently experiencing COVID-19 symptoms beginning in the last 5 days
And: You have had a positive PCR or Lateral Flow test for COVID-19
And: You are aged 50 or over, or aged 18 or over with a listed pre-existing condition
Currently active: Yes, recruitment ongoing
We are currently recruiting to the Paxlovid arm. The Molnupiravir arm of the study has recently closed. Please find the results poster below.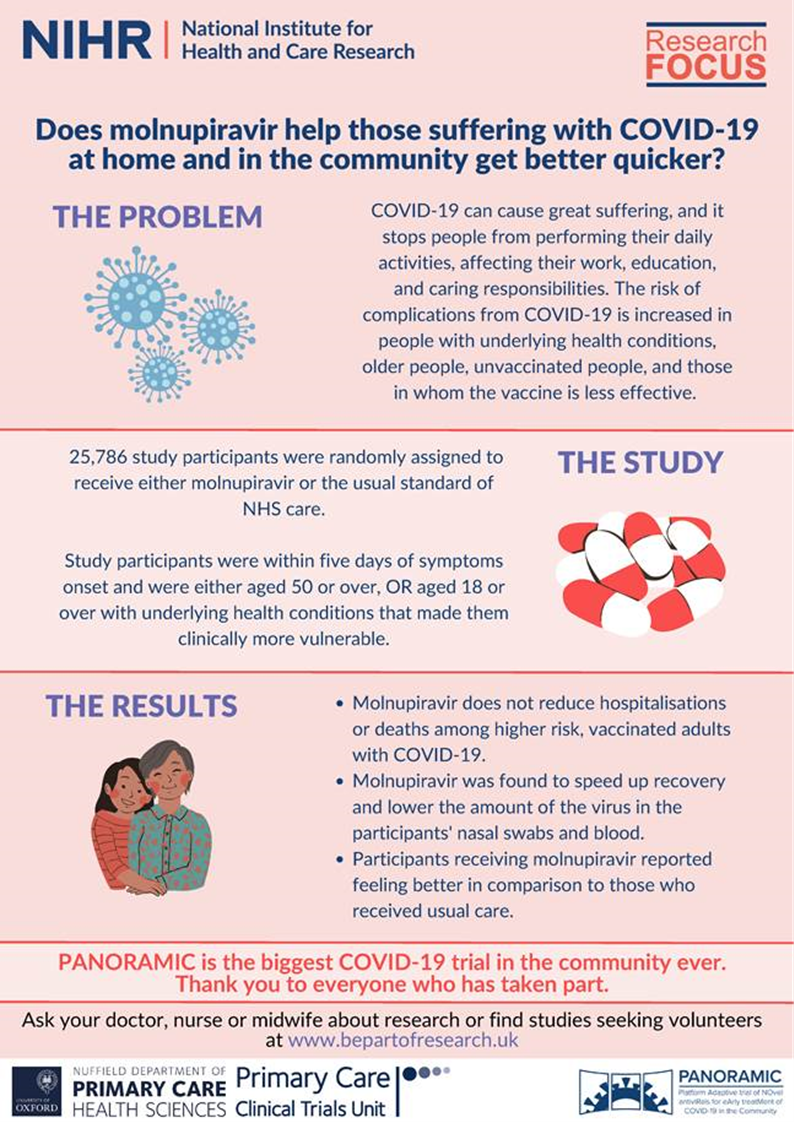 HipDyS
Evaluation of aid to diagnosis of congenital dysplasia of the hip in general practice: controlled randomised trial.
When you come for baby's 6-8 week check, the GP will examine your baby's hips. A research trial is being conducted which seeks to improve the way the 6-8 week checks are carried out. The research team will follow your child's care through the NHS for 2 years. This is needed to find out if your child has always had normal hips, or if the child has ever been to hospital for a hip problem. Also, as part of the research, the surgery staff may send you questionnaires to ask you about your appointment. 
You can opt out of this research study. Opting out means the doctor will continue the examination as routine care and no date will be collected by the research team. You will also not be contacted to complete the questionnaires. 
Currently active: ongoing
 - Shingles Study 
Shingles is caused by the same virus that causes chickenpox.
It "sleeps" in the nerve cells for decades. When it "wakes up", it can make people feel generally unwell, cause tingling or pain in one part of the body, followed a few days later by a rash. The rash can take up to four weeks to heal. Antiviral medicine helps reduce initial pain and rash severity.
Some people can have "nerve pain" months after the shingles rash has gone. Called post-herpetic neuralgia, we don't have any treatments to prevent this. Patients buy, and GPs prescribe painkillers such as paracetamol, but they often don't help. The study aims to find out whether taking a low dose of amitriptyline soon after getting shingles can prevent long-term nerve pain associated with shingles.
Currently active – recruitment open
 - Atrial Fibrillation Study 
SAFER - Atrial fibrillation (AF) is a heart condition that causes irregular heartbeat.
It affects up to 1 in 10 people over the age of 70. AF greatly increases risk of stroke, but treatment with blood thinning ("anticoagulant") medication can stop this happening. About 10% of strokes happen in people unaware they have AF. Detecting AF can be difficult because it often comes and goes, and may not cause symptoms.
This study is part of a large 8-year programme of work to find out if screening for AF in people aged 70 and over does prevent stroke and other problems like heart attacks, does not cause significant harm, and represents good value-for-money for the NHS. Eligible patients aged 70 and over will be identified and invited to participate when the trial opens at the surgery. Patients who wish to take part will be randomised into either the AF screening arm or a control arm. For those in the screening arm a simple, non-invasive hand-held ECG recording device will be sent to their home address with full instructions.
Currently active 
Virology Surveillance 
Giving swab samples for disease surveillance 
Virology surveillance is a programme to measure the effectiveness of the influenza/flu and COVID-19 vaccinations using results from swabs taken by patients who are unwell. The swabs are used to monitor the spread of respiratory viruses, like flu and COVID-19, in different regions throughout the winter. 
The anticipated burden of flu and COVID-19  during winter season on the National Health Service (NHS) is significant. By providing this swab, you are enabling public health bodies to make crucial public health decision. 
Currently active: Yes, recruitment ongoing
 
STopping Aminosalicylate Therapy in Inactive Crohn's Disease Study. A randomized, open-label, non-inferiority trial.
There are plenty of studies showing that aminosalicylates (5-ASA or mesalazine) are very useful drugs in the treatment of Ulcerative colitis. Equally, there are plenty of studies showing that they are NOT useful in the treatment of Crohn's disease. In fact, they are little more than a placebo in Crohn's disease. To this effect, the British Society of Gastroenterology does not suggest using 5ASAs to treat CD. However, a large proportion of patients with Crohn's disease are still prescribed 5ASAs, even after other medication (like azathioprine or biologics) has been added to help control their symptoms.
This clinical trial will aim to definitively prove that 5ASAs have no role in the management of CD, and it is indeed safe to stop these medications when CD is in remission (i.e. currently not flaring). The study aims to show that stopping or continuing 5ASAs will not have any effect on disease flares and complications related to CD. 
Who can take part in the study?
Patients over 18 with Crohn's Disease (CD) that is in remission and are currently taking a type of medication known as an aminosalicylate (5-ASA or mesalazine).
Currently active
ATTACK
Aspirin To Target Arterial events in Chronic Kidney disease
Does low-dose aspirin reduce the chance of a heart attack or stroke in patients with chronic kidney disease (CKD)? This is a large-scale academic study led by the University of Southampton, to see whether or not patients with chronic kidney disease should be taking aspirin daily to prevent a first heart attack or stroke. It is recruiting patients from GP practices across the UK, and looks to invite 198,000 patients.
Currently active: Yes, recruitment ongoing.
DaRe2THINK
DaRe2THINK is a study developed by the University of Birmingham targeting those with Atrial fibrillation (AF). AF is a common heart rhythm condition that leads to a high chance of stroke, frequent hospital admissions, a higher risk of cognitive decline and dementia. Blood thinning tablets called anticoagulants greatly reduce the number of patients with AF that will suffer a stroke, but are usually only given to older patients or those with other health issues. DaRe2Think aims to determine whether direct oral anticoagulant (DOAC) therapy reduces premature death, stroke and other consequences of AF in younger patients, including the prevention of cognitive decline and vascular dementia. The trial is aiming to recruit 3,000 patients from up to 600 GP surgeries across England.
If you have received an letter from the practice inviting you to DaRe2THINK and you are interested in taking part, please contact our Research Team.
Currently active: Yes, recruitment ongoing.
Immune Defence
The Immune Defence Study is part of the RECUR Programme that is run by the University of Southampton. This study is designed to determine if using nasal sprays, being more physically active and reducing stress, can help people reduce the frequency and severity of respiratory infections (such as colds, sore throats, sinus, chest or ear infections, flu and COVID-19). Immune Defence is aiming to involve approximately 200 GP practices and up to 15000 patients who may be at risk from respiratory infections.
Currently active: In follow up.

Discover Me is a nationwide research study looking at how health and genetic information can allow us to better understand disease.
By joining Discover Me United Kingdom you can get insights into your health and genetic ancestry.
You can take part if you are aged 18 or over, able to consent for yourself, and your GP practice or online patient service provider is participating in the study.
Currently active: Yes, recruitment ongoing.
Are you interested in research?
If you have any questions or would like more information about any of our research please call the Newton Place Surgery research mobile on 07538 115938. 
Or email us on kmicb.newtonplaceresearch@nhs.net