Current Studies
Featured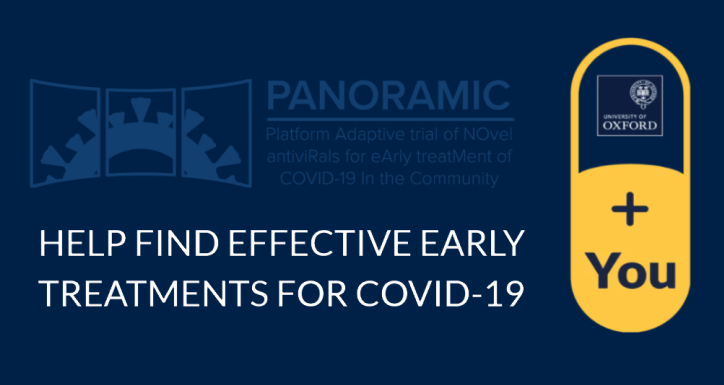 COVID-19 Study: PANORAMIC

Platform adaptive trial of Novel antivirals for early treatment of COVID-19 in the community

PANORAMIC is a UK national priority clinical trial seeking new antiviral treatments for COVID-19 in the community.
This study, sponsored by the University of Oxford, is now considered the fastest recruiting trial for COVID-19 with over 26,000 participants taking part from across 65 sites. 
The eligibility criteria for this trial:
You are currently experiencing COVID-19 symptoms beginning in the last 5 days
And: You have had a positive PCR or Lateral Flow test for COVID-19
And: You are aged 50 or over, or aged 18 or over with a listed pre-existing condition
Currently active: Yes, 69 patients from Newton Place have taken part in this study. 
APPLE-Tree
Active Prevention in People at risk of dementia through Lifestyle, behaviour change and Technology to build Resilience
APPLE-Tree is a study led by the research team at the University College London intending to develop and test a prevention programme to reduce the risk of developing dementia in people over the age of 60. Their main aims are:
To assess whether the APPLE-Tree intervention is acceptable and feasible to deliver in practice.
To confirm if the APPLE-Tree intervention reduces cognitive decline over two years.
To explore what factors may determine decisions of NHS and third sector organisations not taking part in the trial, regarding whether or not they decide to adopt the new intervention, if it is demonstrated to be clinically effective and cost-effective.
Currently active: Yes, recuitment has begun.
ATTACK
Aspirin To Target Arterial events in Chronic Kidney disease
Does low-dose aspirin reduce the chance of a heart attack or stroke in patients with chronic kidney disease (CKD)? This is a large-scale academic study led by the University of Southampton, to see whether or not patients with chronic kidney disease should be taking aspirin daily to prevent a first heart attack or stroke. It is recruiting patients from GP practices across the UK, and looks to invite 198,000 patients.
Currently active: Yes, recruitment has begun.
Convalescent Serology
This study, led by Public Health England and the University of Oxford, is looking at blood samples from patients who have recovered from COVID-19. Blood samples taken from patients who have had and are recovering from a confirmed COVID-19 infection help researchers to understand the antibody response following infection. This in turn will help to develop new tests for detecting the coronavirus infection. Blood samples are taken at the following dates post infection: 3-6 weeks, 12 weeks, 20 weeks, 9 months and 12 months.
Currently active: Yes, 22 patients have taken part in this study.
DaRe2THINK
DaRe2THINK is a study developed by the University of Birmingham targeting those with Atrial fibrillation (AF). AF is a common heart rhythm condition that leads to a high chance of stroke, frequent hospital admissions, a higher risk of cognitive decline and dementia. Blood thinning tablets called anticoagulants greatly reduce the number of patients with AF that will suffer a stroke, but are usually only given to older patients or those with other health issues. DaRe2Think aims to determine whether direct oral anticoagulant (DOAC) therapy reduces premature death, stroke and other consequences of AF in younger patients, including the prevention of cognitive decline and vascular dementia. The trial is aiming to recruit 3,000 patients from up to 600 GP surgeries across England.
If you have received an letter from the practice inviting you to DaRe2THINK and you are interested in taking part, please contact our Research Team.
Currently active: Yes, 2 patients are taking part in this study.
Immune Defence
The Immune Defence Study is part of the RECUR Programme that is run by the University of Southampton. This study is designed to determine if using nasal sprays, being more physically active and reducing stress, can help people reduce the frequency and severity of respiratory infections (such as colds, sore throats, sinus, chest or ear infections, flu and COVID-19). Immune Defence is aiming to involve approximately 200 GP practices and up to 15000 patients who may be at risk from respiratory infections.
Currently active: Yes, 37 patients are taking part in this study.
IsoFit-BP
Isometric exercise for people with raised Blood Pressure
Support a local piece of research developed through the University of Kent, Canterbury Christ Church University and East Kent Hospitals University Foundation Trust, IsoFIT-BP!
Within the UK approximately 8 million people are affected by high blood pressure (BP). Standard treatment normally includes changes in lifestyle and/or medication, however, more than half of patients fail to control their BP due to unpleasant side effects associated with medication, and the difficulty of complying with exercise recommendations (at least 150 minutes a week of moderate intensity activity) and dietary changes. The aim of IsoFIT-BP is to find out whether a particular form of static exercise - isometric exercise - is efficient in reducing BP in those with mild hypertension and subsequently whether nurses and allied health professionals can deliver these exercises in a primary care NHS setting.
If you are interested in finding out more or taking part in this study, please contact the Newton Place Research Team. You can also visit the study website: IsoFIT-BP Study
Currently active: Yes, but recuitment is drawing to a close.
MAGNIFY COPD
Maximizing Adherence and Gaining New Information For Your COPD
Previous research has shown that poor treatment adherence in patients with chronic obstructive pulmonary disease (COPD) is associated with poor clinical outcomes, such as worsening symptoms. Newton Place Surgery is participating in a research study called MAGNIFY which aims to support treatment adherence in those with COPD through the use of a new type of device. This technology monitors inhalations and sends messages to the user's smartphone to remind them to take their daily dose. It also allows healthcare professionals to monitor patients' inhaler use and provide more personalised support. MAGNIFY is managed by the Observational and Pragmatic Research Institute (OPRI) and funded by Novartis AG. It is already being conducted at approximately 200 GP practices across the UK.
If you have a current diagnosis of COPD and would like to find out more about MAGNIFY, please contact the Newton Place Research Team.
Currently active: Yes, 4 patients are taking part in this study.
STREAM
Screen and treat for Malnutrition
The University of Southampton has developed an intervention to help doctors and nurses in general practice to check if adults over the age of 75 who live at home are at risk of malnutrition. The STREAM study aims to assess the effectiveness of this intervention. Newton Place have identified eligible patients over 75 to compare the newly developed intervention with usual care in order to see what effect it has on participants' quality of life and infections over 18 months.
Currently active: Yes, 7 patients are taking part in this study. 
The PRINCIPLE Trial
PRINCIPLE is another clinical trial led by the University of Oxford exploring treatments for COVID-19. So far over 11,000 patients have taken part in this study from practices across England. The eligibility criteria are as below:
You are currently experiencing COVID-19 symptoms for 14 days or less
AND: You have had a positive test for COVID-19 in the last 14 days
AND: You are aged 18 or over
Currently active: No, recruitment is currently paused. Newton Place have recruited 11 patients.