Current Studies
Featured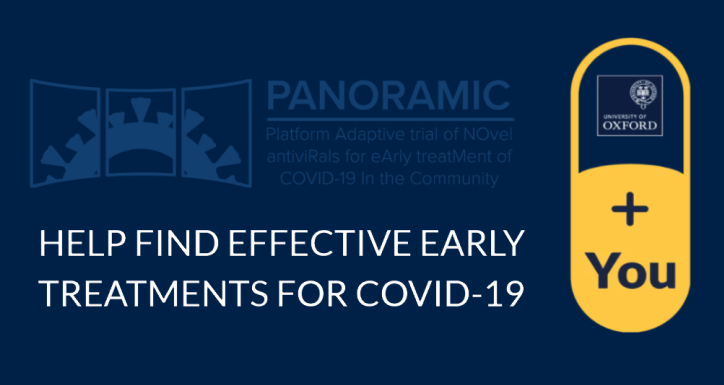 COVID-19 Study: PANORAMIC

Platform adaptive trial of Novel antivirals for early treatment of COVID-19 in the community

PANORAMIC is a UK national priority clinical trial seeking new antiviral treatments for COVID-19 in the community.
This study, sponsored by the University of Oxford, is now considered the fastest recruiting trial for COVID-19 with over 26,000 participants taking part from across 65 sites. 
The eligibility criteria for this trial:
You are currently experiencing COVID-19 symptoms beginning in the last 5 days
And: You have had a positive PCR or Lateral Flow test for COVID-19
And: You are aged 50 or over, or aged 18 or over with a listed pre-existing condition
Currently active: Yes, recruitment ongoing
MultiCath
MultiCath is a randomised controlled trial developed to determine whether people who use intermittent catheterisation to empty their bladder experience no more urinary tract infections reusing some of their catheters than they would using their standard care single use catheters.
Currently active: ongoing
Athena - Shingles Study
Shingles is caused by the same virus that causes chickenpox.
It "sleeps" in the nerve cells for decades. When it "wakes up", it can make people feel generally unwell, cause tingling or pain in one part of the body, followed a few days later by a rash. The rash can take up to four weeks to heal. Antiviral medicine helps reduce initial pain and rash severity.
Some people can have "nerve pain" months after the shingles rash has gone. Called post-herpetic neuralgia, we don't have any treatments to prevent this. Patients buy, and GPs prescribe painkillers such as paracetamol, but they often don't help. The study aims to find out whether taking a low dose of amitriptyline soon after getting shingles can prevent long-term nerve pain associated with shingles.
Currently active – recruitment opening soon
SAFER - Atrial fibrillation (AF)
SAFER - Atrial fibrillation (AF) is a heart condition that causes irregular heartbeat.
It affects up to 1 in 10 people over the age of 70. AF greatly increases risk of stroke, but treatment with blood thinning ("anticoagulant") medication can stop this happening. About 10% of strokes happen in people unaware they have AF. Detecting AF can be difficult because it often comes and goes, and may not cause symptoms.
This study is part of a large 8-year programme of work to find out if screening for AF in people aged 70 and over does prevent stroke and other problems like heart attacks, does not cause significant harm, and represents good value-for-money for the NHS. Eligible patients aged 70 and over will be identified and invited to participate when the trial opens at the surgery. Patients who wish to take part will be randomised into either the AF screening arm or a control arm. For those in the screening arm a simple, non-invasive hand-held ECG recording device will be sent to their home address with full instructions.
Currently active – recruitment opening soon
ERICA
Electronic Risk Assessment for Cancer
A team led by researchers at the University of Exeter has developed new electronic risk assessment tools (otherwise known as eRATs) to help GPs identify possible cancer. The eRATs have two main functions: the prompt and the symptom checker. The prompt appears as a pop-up on screen when a patient has at least a 2% risk of one or more of the seven cancers in the eCDS software. GPs can explore the possibility of cancer further in consultation with the patient using the symptom checker function of the tool. The symptom checker allows the GP to add new symptoms and will automatically recalculate the risk of cancer.
Currently active: Yes, recruitment ongoing
APPLE-Tree
Active Prevention in People at risk of dementia through Lifestyle, behaviour change and Technology to build Resilience
APPLE-Tree is a study led by the research team at the University College London intending to develop and test a prevention programme to reduce the risk of developing dementia in people over the age of 60. Their main aims are:
To assess whether the APPLE-Tree intervention is acceptable and feasible to deliver in practice.
To confirm if the APPLE-Tree intervention reduces cognitive decline over two years.
To explore what factors may determine decisions of NHS and third sector organisations not taking part in the trial, regarding whether or not they decide to adopt the new intervention, if it is demonstrated to be clinically effective and cost-effective.
Currently active: Yes, recruitment coming to a close.
ATTACK
Aspirin To Target Arterial events in Chronic Kidney disease
Does low-dose aspirin reduce the chance of a heart attack or stroke in patients with chronic kidney disease (CKD)? This is a large-scale academic study led by the University of Southampton, to see whether or not patients with chronic kidney disease should be taking aspirin daily to prevent a first heart attack or stroke. It is recruiting patients from GP practices across the UK, and looks to invite 198,000 patients.
Currently active: Yes, recruitment ongoing.
DaRe2THINK
DaRe2THINK is a study developed by the University of Birmingham targeting those with Atrial fibrillation (AF). AF is a common heart rhythm condition that leads to a high chance of stroke, frequent hospital admissions, a higher risk of cognitive decline and dementia. Blood thinning tablets called anticoagulants greatly reduce the number of patients with AF that will suffer a stroke, but are usually only given to older patients or those with other health issues. DaRe2Think aims to determine whether direct oral anticoagulant (DOAC) therapy reduces premature death, stroke and other consequences of AF in younger patients, including the prevention of cognitive decline and vascular dementia. The trial is aiming to recruit 3,000 patients from up to 600 GP surgeries across England.
If you have received an letter from the practice inviting you to DaRe2THINK and you are interested in taking part, please contact our Research Team.
Currently active: Yes, recruitment ongoing.
Immune Defence
The Immune Defence Study is part of the RECUR Programme that is run by the University of Southampton. This study is designed to determine if using nasal sprays, being more physically active and reducing stress, can help people reduce the frequency and severity of respiratory infections (such as colds, sore throats, sinus, chest or ear infections, flu and COVID-19). Immune Defence is aiming to involve approximately 200 GP practices and up to 15000 patients who may be at risk from respiratory infections.
Currently active: In follow up.
MAGNIFY COPD
Maximizing Adherence and Gaining New Information For Your COPD
Previous research has shown that poor treatment adherence in patients with chronic obstructive pulmonary disease (COPD) is associated with poor clinical outcomes, such as worsening symptoms. Newton Place Surgery is participating in a research study called MAGNIFY which aims to support treatment adherence in those with COPD through the use of a new type of device. This technology monitors inhalations and sends messages to the user's smartphone to remind them to take their daily dose. It also allows healthcare professionals to monitor patients' inhaler use and provide more personalised support. MAGNIFY is managed by the Observational and Pragmatic Research Institute (OPRI) and funded by Novartis AG. It is already being conducted at approximately 200 GP practices across the UK.
If you have a current diagnosis of COPD and would like to find out more about MAGNIFY, please contact the Newton Place Research Team.
Currently active: Yes, recruitment ongoing.
STREAM
Screen and treat for Malnutrition
The University of Southampton has developed an intervention to help doctors and nurses in general practice to check if adults over the age of 75 who live at home are at risk of malnutrition. The STREAM study aims to assess the effectiveness of this intervention. Newton Place have identified eligible patients over 75 to compare the newly developed intervention with usual care in order to see what effect it has on participants' quality of life and infections over 18 months.
Currently active: In follow up.